Which providers are allowed to certify a Medicare physical therapy plan of care?
There are several types of healthcare providers that are allowed to certify a Medicare physical therapy plan of care.
Medical Doctor
Doctor of Osteopathic Medicine
Nurse Practitioner
Physician's Assistant
Clinical Nurse Specialist
Providers not allowed to certify a Medicare Part B physical therapy plan of care:
Doctors of Dental Surgery
Doctors of Dental Medicine
Chiropractors
Podiatrists – "Certifications and recertifications by doctors of podiatric medicine must be consistent with the scope of the professional services provided by a doctor of podiatric medicine as authorized by applicable state law."
Optometrists may order and certify only low vision services.
Most common errors related to Medicare Part B physical therapy plan of care certification.
Below is a screenshot of the most common outpatient rehabilitation therapy CERT errors.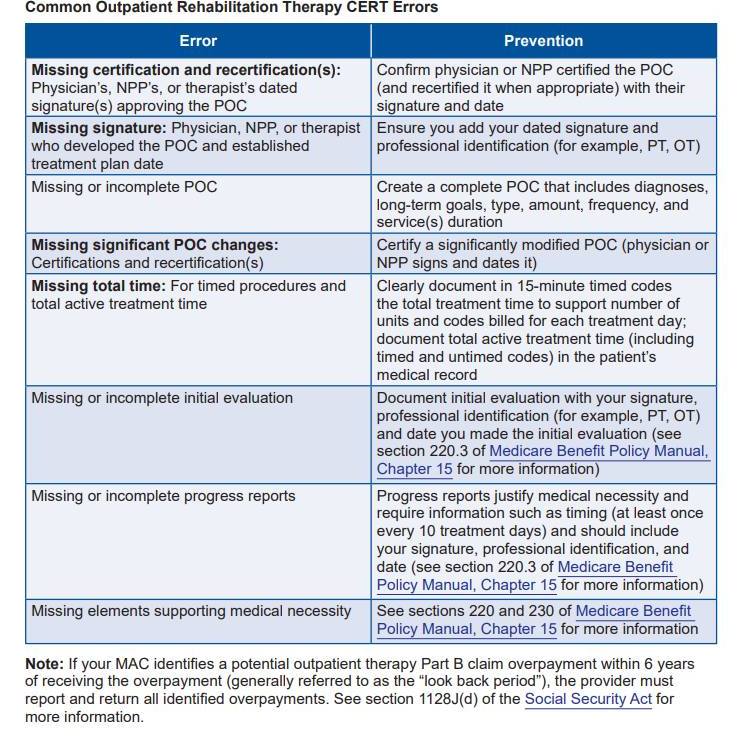 Which providers are allowed to refer Medicare patients to outpatient physical therapy?
It is important to understand the distinction between referal to physical therapy services and certification of a therapy services plan of care.
Referral to Physical Therapy
A referral to physical therapy is when a physician or nonphysician practitioner generates an order for the patient to receive physical therapy treatments. While most states offer physical therapists in private practiec some level of direct access, other states still require a physician referral.
Certification of a Physical Therapy Plan of Care
The certification of a physical therapy plan of care often superceeds a referral to physical therapy as it requires a signature from the physician or nonphysician practitioner and attestation that the physical therapy plan of care is medically necessary and the patient is currently under the care of the physician/NPP.
220.1.1 – Care of a Physician/Nonphysician Practitioner (NPP)
According to CMS Chapter 15 page 166 "Although there is no Medicare requirement for an order, when documented in the medical record, an order provides evidence that the patient both needs therapy services and is under the care of a physician." Link
* Note: Since Medicare Part B does not require a referral for outpatient physical therapy services, a physical therapist must ensure compliance with state practice act guidelines.
What are the Medicare Part B physical therapy plan of care requirements?
Read this article for a detailed article on the required elements of a Medicare Part B physical therapy plan of care.
Simply put, Medicare requires the following 3 elements in a plan of care:
Treatment Diagnosis
Long Term Goals
Type of Service, Amount, Duration, Frequency
Where can a physical therapist find more information?
The 3 best resources for more information are:
Medicare Benefit Policy Manual – CMS Chapter 15 Section 220 – 230
Your state practice act
Your state's physical therapy association website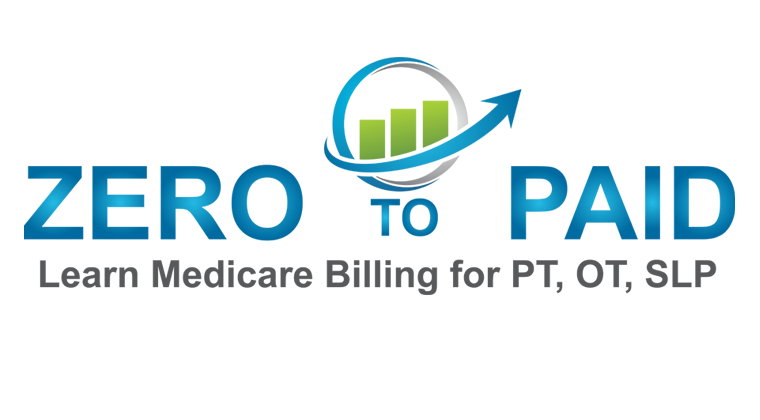 Everything you need to know about Medicare part B billing for physical therapists, occupational therapists, and speech language pathologists.
If you have been thinking about starting a brick and mortar private practice, mobile practice, or side hustle, this course will provide you with the tools and confidence to get started.
Lifetime access $499