Let the Marketing Dept Pick a Business Name for Your Physical Therapy Practice.
While your physical therapy business name is important, don't let it slow you down. Too many aspiring business owners stall for months in trying to choose a name. There are several considerations and types of business names to choose from, but at the end of the day, picking a name is less important than many other aspects of starting your physical therapy business.
My Advice Has Changed in Recent Years
15 years ago I would have recommended you choose a generic, non-branded name for your physical therapy practice. This would allow you to sell to a larger entity or another private owner. 
But this was before social media. Now, even if you name the business after yourself, you can still build the business around the service and not create a dependence on you. I am the face of my business Total Therapy Solutions. Every YouTube video and social media post features me, but I rarely actually treat any patients in my clinic. I may perform the initial evaluation and supervision, but my team delivers the patient care experience I share on social media.
What is Most Important in 2022?
The most important aspect once you decide to pick a business name for your physical therapy practice is to fully understand how that name moves you toward achieving your goal.
I say goal because you want 1 singular overarching goal that directs your actions. Every time I make a decision in my business I ask myself if this decision is moving me toward that single goal.
Branded vs Non-Branded Physical Therapy Business Name
A branded name is easily recognizable and understandable. New York City Physical Therapy is an example or a branded name. Steven Johnson Physical Therapy and Associates is another example of a branded name.
A non-branded name is a word or collection of letters that don't have a well-accepted meaning. Costco is an example of a non-branded name. Jacuzzi is another example of a non-branded name. These names have become synonymous with the business they represent, but before anyone knew the business the name didn't mean much.
Don't Forget About Google My Business.
These days, if you don't show up on Google you might as well not even exist. Google My Business is now referred to as Google Business Profile and may be a powerful consideration for anyone starting a brick-and-mortar-based physical therapy practice.
Local SEO
Assuming you plan to treat patients in your physical therapy clinic, you will need to optimize your business name and website for local SEO.
This means you want your website to show up when prospects Google search these popular keywords:
physical therapy near me
PT near me
best physical therapist in [city] [state]
Medicare physical therapists near me
Blue Cross Blue Shield physical therapists near me
Optimize for the Google Map 3 Pack
Below is a screenshot of the Google Map 3 pack. If I search the keyword "physical therapy near me" Google understands that I am looking for providers near my computer's geolocation. So the Map 3 pack provides the top three Google recommendations.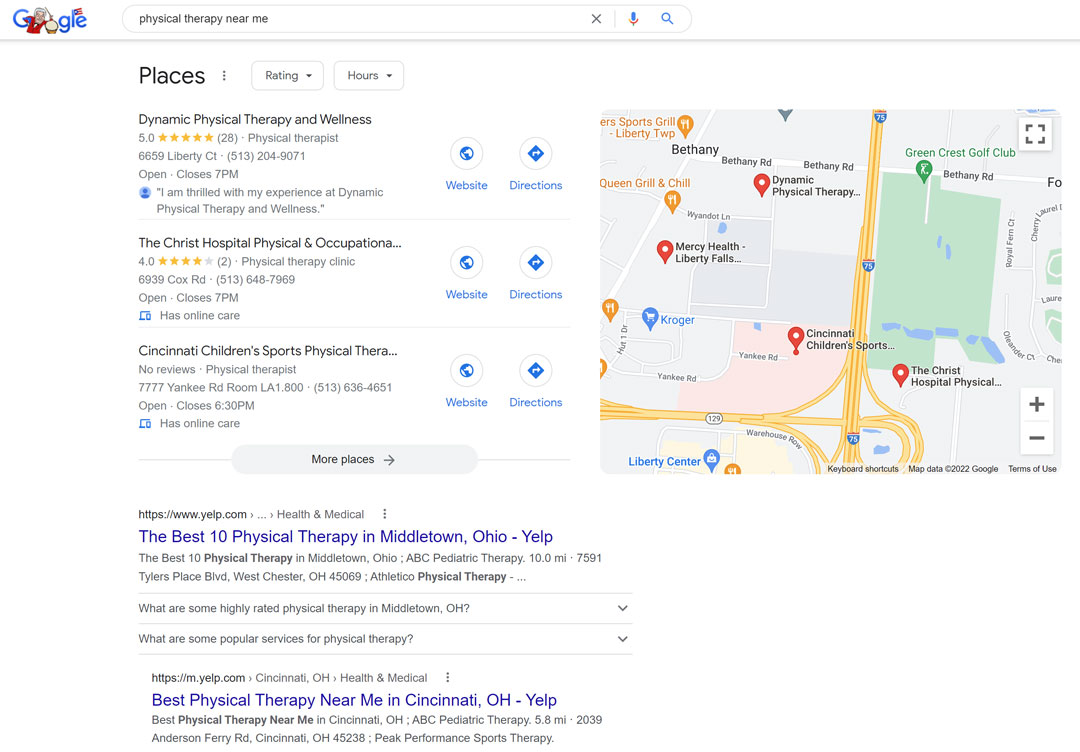 Google business profile requires you to register your actual business name. If Google finds out that you used a fake name to optimize your profile listing you will be removed from the map pack.
This means that if you are looking for mostly local traffic you may want to choose a location-based name that includes physical therapy. For example, "Middletown Ohio Physical Therapy Providers LLC".
What Does Your State Require In Your PT Business Name?
Each state will have state-specific requirements. California and New York jump to mind with limitations on what words you must use in your physical therapy practice names, what words you can't use, and who can own any or all of your business.
Research state-specific guidelines before choosing a name. Start with your state physical therapy board, then visit your state's department of corporations or anything similar.
3 Types of C
atchy Physical Therapy Business Names

?
Location-Based Physical Therapy Business Names:
When I started my private practice in Sarasota, FL I wanted my name to let prospective patients know where we were located. My first pick was Siesta Key Physical Therapy because Siesta Key is a geographic area within Sarasota that was very specific to my target demographic.
During certain times of the year, nobody living on the island of Siesta Key wanted to leave the island because of the traffic. This provided me with a mental and geographic barrier from my competition located just a couple minutes over the bridge.
Specialty-Focused Physical Therapy Practice Names:
If you are a specialty provider with advanced certifications you may choose to use those qualifications in your name. For example, manual-based therapists will often use the words "manual therapy" in the name as in Manual Physical Therapy & Concierge Services.
Other popular specialty-focused words include:
Sports Medicine
Neurologic
Pediatric
Geriatric
Orthopedic
Personal Brand-Based Physical Therapy Practice Names
Social media has turned ordinary people into celebrities. Name-based marketing and building a personal brand are powerful.
Dwane Johnson released Teremana Tequila which instantly "rock"eted to the top of the charts because of his personal branding.
Anything tied to Kim Kardashian's name is an instant top seller.
Even in our own world of physical therapy, Bob and Brad can thank their YouTube fame for their huge financial success and the instant popularity of their branded physical therapy products.
If you have cultivated a social media following, you may consider using your proper name in the name of your business. If you Google search my name Anthony Maritato you will find multiple businesses all related to the profession of physical therapy.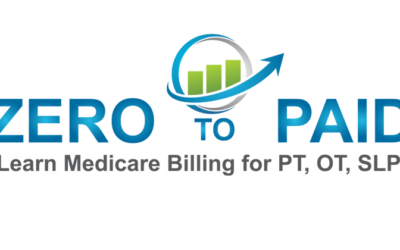 Everything you need to know about Medicare part B billing for physical therapists, occupational therapists, and speech language pathologists.
If you have been thinking about starting a brick and mortar private practice, mobile practice, or side hustle, this course will provide you with the tools and confidence to get started.
Lifetime access $499