Most COMMON Physical Therapy Billing Modifiers
GP Physical Therapy Billing Modifier
"GP = Services delivered under an outpatient physical therapy plan of care."
When a physical therapist is delivering the clinical service a "GP" modifier should be placed on the specific line item to indicate that the service was delivered by a licensed physical therapist.
For example, both occupational therapists and physical therapists often bill CPT Code 97110. In order for Medicare or Medicare advantage plans to know which provider is delivering the service the line item must indicate the GP or GO modifier.
CQ Physical Therapist Assistant Billing Modifier
"CMS has established two modifiers, CQ and CO, for services furnished in whole or in part by physical therapist assistants (PTAs) and occupational therapy assistants (OTAs). The modifiers are defined as follows:
CQ modifier: Outpatient physical therapy services furnished in whole or in part by a physical therapist assistant
CO modifier: Outpatient occupational therapy services furnished in whole or in part by an occupational therapy assistant" – Souce: CMS.gov
KX Modifier
KX modifier – Indicates that the requirements specified in the medical policy have been met. Medical policy may be payer specific.
Click here to see a resource from Unitedhealthcare. This PDF resource includes Medicare LCD references.
The KX modifier should be used when a Medicare beneficiary receiving physical therapy, occupational therapy, or speech language pathology is approaching the financial threshold. 
GA Modifier and Advance Beneficiary Notification (ABN)
When delivering services that are commonly medically necessary, but in this particular case the service is no longer medically necessary.
59 Modifier
The two most common cases in which the 59 modifier is utilized in physical therapy billing modifiers includes when a provider is billing codes within an NCCI edit or when two different therapists or disciplines are billing for the same service on the same day.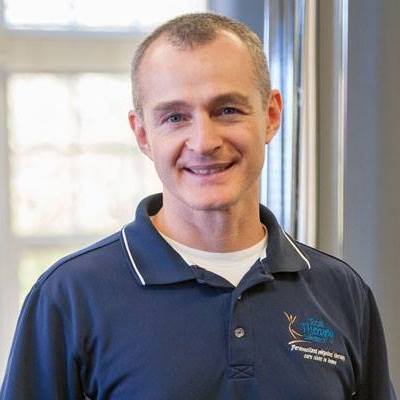 Anthony Maritato, PT
Private Practice Owner / Physical Therapist
After starting a private practice physical therapy clinic in 2022 with his wife Kathy Maritato, PT, Tony and Kathy grew their practice to five locations across two states.
Now, Tony and Kathy enjoy spending time treating patients in the morning, coaching therapists in the evening, and being home to play with their dog Tucker and 4 boys.