Physical Therapy Business SWOT Analysis
Physical Therapy Private Practice Strengths
2022 has seen some major challenges for small physical therapy private practices.
Declining Medicare reimbursement
Increasing Regulations
Staffing Shortages
Increasing Educational Costs
Increasing Rental Costs
Increased Operational Costs
But there are still some strengths in the profession and more specifically strengths within our private practice.
Some of my favorite competitive strengths include:
Location / Recognition
Each year we stay in the same location is another year worth of people who know where we are. Reputation and a physical presence improves with time.
Social Media
Our YouTube channel has grown to 20,000+ subscribers and our TKR Facebook group has grown to over 7,000 members.
Each month I am finding more new patient referrals coming from these two social media outlets.
Increased Operational Efficiency
As our business systems improve, we find increased operational efficiency offers a competitive advantage over our competition. As our billing department becomes more efficient at processing claims it costs us less to process claims on a per claim basis.
As our documentation system gains more experiences, our documentation templates improve and documentation burden is reduced.
Physical Therapy Private Practice Weaknesses
Commoditization
Physical therapy is easily becoming a commoditized service. Since insurance is often paying the bill, clients don't differentiate physical therapists before starting.
Every physical therapy business and each physical therapist is expected to deliver the same level of care.
Declining Reimbursement
Since most physical therapy services are paid for by larger, third party payers like Unitedhealthcare, Medicare, Medicaid, Humana, Aetna, and Blue Cross Blue Shield, these buyers have huge power in negotiating lower reimbursement rates.
Individual private practices have little or no chance to negotiate higher rates.
Increased Annual Payroll Costs
Inflation has reached historic highs in the United States. The cost of education has also been on the rise. Finally rising interest rates completes the trifecta raising the cost of hiring clinical staff.
Physical Therapy Private Practice Opportunities
Telehealth
Medicare and other third party payers give our profession a huge boost to advance telehealth delivery when they started to reimburse telehealth physical therapy services in 2020.
Now, if telehealth fails to gain traction it is our fault as a profession.
Digital Products
Productizing our services is one of the largest opportunities in the immediate future. Only a tiny fraction of people with non-surgical shoulder pain will have access to a physical therapist. If you are able to document what you do in a typical initial evaluation and plan of care using video and audio, then package and make that experience available for sale to individuals who may never work with you is how you can productize your service.  – Read About Monetizing A Physical Therapy Website
Sell Plans of Care Beyond Insurance Coverage
In my physical therapy clinic, I often evaluate new patients who would benefit from improved sleep and nutrition. Since these are not covered services under most insurance plans, I offer self pay services in addition to insurance covered services.
If you offer self pay services in addition to insurance covered services you will see improved patient outcomes, increased profitability, and improved personal enjoyment in doing what you do.
Click here to learn more about Increasing Physical Therapy Practice Income
Physical Therapy Private Practice Threats
Declining Reimbursement
As mentioned above, reimbursement has been declining for years. If private practice physical therapists continue to limit revenue to third party payer covered services we will continue to experience declining reimbursement.
Increasing Patient Cost Share
Insurance plans continue to increase the patient cost share to maintain or reduce the price of their monthly premiums.
If a patient is paying a $50 per visit copay in 2022 when they were used to paying a $15 per session copay in 2012 they are less likely to agree to a 24 visit plan of care.
Increasing Audits
Medicare seems to be increasing TPE Audits and post payment audits in recent years. My physical therapy practice has been in existence for more than 20 years and participated and passed both audits in early 2022.
Increased audits means increased administrative hassle even if a physical therapy practice is doing everything right.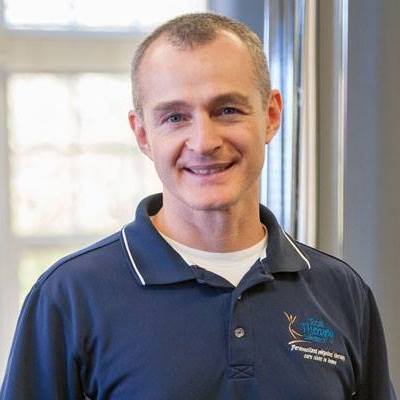 Anthony Maritato, PT
Private Practice Owner / Physical Therapist
After starting a private practice physical therapy clinic in 2022 with his wife Kathy Maritato, PT, Tony and Kathy grew their practice to five locations across two states.
Now, Tony and Kathy enjoy spending time treating patients in the morning, coaching therapists in the evening, and being home to play with their dog Tucker and 4 boys.