5 TIPS for Physical Therapy Email Marketing in 2022
Physical Therapy Email Marketing (Basics)
Have a purpose
Build a relationship
Connect with Other Businesses
Drive Affiliate Income
Pick an Email System that is Easy to Use
Tip 1 – Have a Purpose
There is nothing worse than getting pointless emails.
What is the benefit to your prospect or client? People love to sign up for email coupons and discounts.
Nobody cares for a fitness tip of the week, but if you can give them a 50% discount on a last minute massage appointment your email open rate will skyrocket.
One of my favorite email campaigns was when an airline would email last minute ticket discounts.
If you offer cash services, sending a daily email of openings on your schedule that day and a 50% discount to the first person who books the appointment can be a great way to increase open rates and solve your business problem.
Tip 2 – Build a Relationship
Email can be a great way to build a relationship. But like most relationships, it must be built on a level of honesty.
Auto-populating names and trying to seem like it is not a mass email is the wrong way to build a relationship. 
In my experience, sending a genuine email asking your past client how things are going is a great way to open the lines of communication.
Tip 3 – Connect with Other Businesses
Your email list has value far beyond its ability to reactivate patients.
If your physical therapy clinic is in the running niche. You should consider connecting with local running shoe stores, running clubs, etc and sharing their information in your emails. 
Maybe you do an interview with another store owner. Maybe you sell sponored ad space in your email. Maybe you share information about upcoming events that would be of interest to your email list.
Tip 4 – Affiliate Income
WARINGING – Amazon does not allow you to email their affiliate links.
Despite Amazon's policy, there are many other affiliate programs that do allow you to email their affiliate links. 
MyRangeMaster.com is a great affiliate program paying 10% commissions and really high quality, low cost products. If you want to start a 6 Week Bulletproof Shoulder Bootcamp you might send an email with embedded affiliate links where members can buy their shoulder pulley systems before starting your program.
Tip 5 – Pick an Email System That is Easy to Use
I have recently switched over to ConvertKit. I previously used MailChimp, but I found that ConvertKit provided an easier user experience for me which made it easier for me to send more emails. 
If you would like to trial ConvertKit, use my affiliate link to get started: click here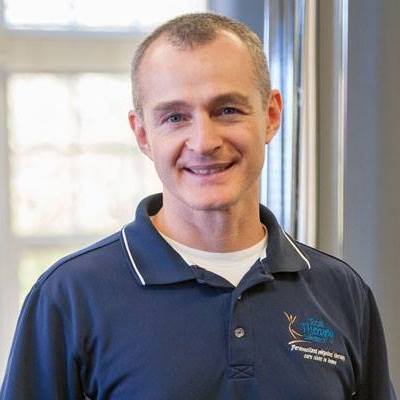 Anthony Maritato, PT
Private Practice Owner / Physical Therapist
After starting a private practice physical therapy clinic in 2022 with his wife Kathy Maritato, PT, Tony and Kathy grew their practice to five locations across two states.
Now, Tony and Kathy enjoy spending time treating patients in the morning, coaching therapists in the evening, and being home to play with their dog Tucker and 4 boys.