7 MUST Haves When Choosing a Physical Therapy EMR
1. Physical Therapy EMR Exit Plan
The physical therapy EMR you love today won't be the physical therapy EMR you love in a couple years.
Things change, your practice will grow. Often, the tools and resources a small single owner-operator physical therapist uses will not be the same tools and resources a multi-location team of 20 will use.
You need a physical therapy EMR that will allos you to transfer data efficiently and effectively into your new system.
And if you can't transfer the patient data you want to be able to access and utilize the old patient data.
Most physical therapy EMRs on the market today will export a csv file, but that is virtual useless for most business owners.
2. Real Customization
Every physical therapy EMR will claim customization, but you need to know if you will need to pay a computer programer to carry out these customizations or if your less than tech savvy administrative staff can do it in-house.
When a third party payer changes a requirement you want to be able to make that customization in your system.
When you want to roll out a new intake form you need to be able to make that customization.
Sometimes you might just want to experiment. You can't pay an engineer to try different things until you figure out what works. You need the ability to do this yourself.
3. Marketing
Every part of your physical therapy practice should play a role in marketing. Your physical therapy EMR is not excempt.
Your EMR platform is a goldmine of information that will help grow your physical therapy business.
You need a physical therapy software that will:
Allow you to maintain contact with past and current patients
Curate marketing lists by birthday, condition, satisfaction ratings
Add marketing specific notes for future use
5. Automation
There are many repetative tasks that a physical therapy software should be able to automate. For example, once I choose a diagnosis code it is reasonable for a PT EMR to autogenerate specific fields I may want to utilize. 
For example, if I choose an ICD 10 diagnosis code of Z47.1 and R26.0 it is reasonable that my physical therapy emr software will generate fields for knee range of motion, distance walked, assistive device used, etc.
The automation of required fields based on third party payer rules and state practice act guidelines is important.
6. Predictive Algorithms
The goal of an effective physical therapy electronic medical record is to make my documentation easier.
If I start typing a search in the Google search bar, predictive algorithms will automatically suggest what I might want to type next.
This has massive implications for a rockstar physical therapy EMR. 
7. Community
In an increasingly connected world, your physical therapy EMR should build a community of like minded clinicians who are willing to share wins and frustrations as a way to help everyone in that community succeed.
Conclusion:
No physical therapy EMR will check all of these boxes, but some will check a few.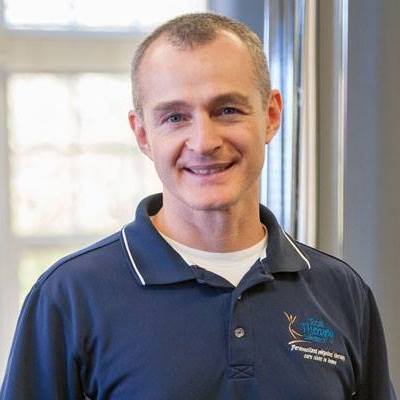 Anthony Maritato, PT
Private Practice Owner / Physical Therapist
After starting a private practice physical therapy clinic in 2022 with his wife Kathy Maritato, PT, Tony and Kathy grew their practice to five locations across two states.
Now, Tony and Kathy enjoy spending time treating patients in the morning, coaching therapists in the evening, and being home to play with their dog Tucker and 4 boys.