Increase Physical Therapy Google Search Traffic
Physical therapy Google search traffic is the lifeblood of any physical therapy website.
When your ideal client is searching for information about their condition you want Google to put your information at the top of organic search results. 
In this article I will share my best strategy to improve the strength of your About Me page which in turn should improve your expertise, authority, and trust in the eyes of Google's algorithm.
Required Elements On An About Me Page
Your physical therapy website's About Me page is where Google reviewers will go to learn about your experience and authority on the topic you are writing about.
A simple checklist of the minimum information you should have on your about me page:
License information
Link to licensing board webpage
Your personal NPI
Link to your personal NPI
The school from which you graduated
Link to the school from which you graduated
Take Your About Me Page to the Next Level
In the video below I share my strategy for placing YouTube and Podcast interviews on your physical therapy website's About Me page to improve your physical therapy Google search traffic.
3 Step Process
Step 1 – If you haven't been interviewed on a podcast or YouTube channel, go find people who would be willing and interested in interviewing you.
Step 2 – Start gathering links to all of your interviews and the social media content in which you are featured as a guest speaker.
Step 3 – Start to embed those resources on your website's about me page.
Make it Personal
Adding personal anecdotes and stories helps your audience better relate to you. 
I often share stories about how my wife and I started our physical therapy practice together. I talk about how we grew to 5 locations across two states and then decided to consolidate down to 2 locations.
Physical therapy Google search traffic is looking for the person behind the therapy. For example, when I mention that I started my clinic on Siesta Key in Sarasota, FL it conjures up happy memories of vacations and family.
Remember Who Your Are Creating this For
You have two audiences for your About Me page. 
Google's Algorithm
Your ideal client
Each has a specific need to satisfy. The better you understand this need the more effective this page will be.
Google will crawl the page and based on the external links you choose to include, Google's algorithm will make association between you and professional organizations, schools, and other sites.
Then for your ideal client you want to include lanugage that resonnates with him.
Why do you do what you do?
What is different about what you do?
Who has been successful working with you?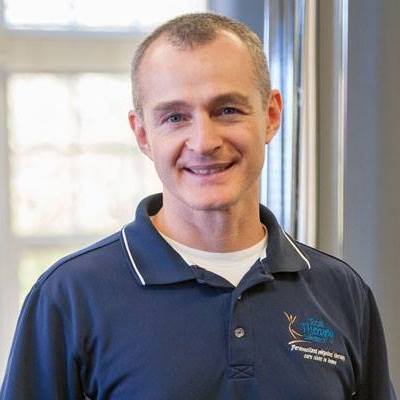 Anthony Maritato, PT
Private Practice Owner / Physical Therapist
After starting a private practice physical therapy clinic in 2022 with his wife Kathy Maritato, PT, Tony and Kathy grew their practice to five locations across two states.
Now, Tony and Kathy enjoy spending time treating patients in the morning, coaching therapists in the evening, and being home to play with their dog Tucker and 4 boys.