Best Physician Marketing Strategies for Physical Therapists
As a mobile physical therapist in private practice, you have two major obstacles to overcome.
Nobody knows that you exist.
Most people will assume you are a Medicare Part A home health company.
Developing physician marketing strategies that are affordable and effective could mean the difference between filling your schedule and wasting hours a day with direct-to-consumer marketing.
1. Interview Local Physicians on YouTube
Every mobile business needs a digital footprint and along with that a set of proven physician marketing strategies for physical therapy. Sometimes virtual real estate may be as valuable as actual real estate. One element of your digital footprint includes a YouTube channel. Here is a list of digital media every mobile provider should have:
Website
Facebook Page
Instagram Page
LinkedIn Profile
YouTube Channel
Podcast
Email List
The first thing I would recommend a mobile physical therapist do while starting a private practice is to create a list of 25 local physicians and start scheduling YouTube/Podcast interviews with each of them.
This will help build rapport between you and the physician. It will put you on the map, even if you have no social media audience. And it will create a sense of reciprocity since your interview is something that adds value to the physician's business in the form of marketing and notoriety.
2. Host a Featured Physician Workshop
 After you perform a virtual YouTube / Podcast interview, I would consider offering to hold a live workshop for your physician. 
Your target physician is the guest speaker. You would secure the venue… perhaps a coffee shop, winery, or other local small business that would want to support you in hosting the event on-site.
Then you would market the event and fill the available seats. 
Your objective isn't to sell your services to the attendees. It is to build a deeper relationship with the featured physician.
Plus, if you have 8 to 12 minutes to briefly speak on the topic before introducing the featured speaker, that forces the physician to listen intently to your spiel. 
3. Create Keyword Specific Pages on your Website
Whether you do a virtual interview or host an in-person speaker event, both of those options will produce content for you. Now you can take this content and create blog posts on your website targeting specific keywords.
For example, if your featured physician is a local surgeon who specializes in total knee replacement revisions, you could create blog posts specifically answering questions people are searching on Google related to that topic. 
This will result in traffic which will increase the reach of that physician.
You could also target local SEO traffic with keywords like "Best Knee Surgeon in [City, State]" Then you could refer that traffic directly to the surgeon's office.
Ranking "Best Knee Surgeon in [City, State]" could be very valuable traffic and result in a significant number of new patient referrals to that physician.
4. Create YouTube Videos on Topics Related to Specific Physician Services
Building on the physician marketing strategies above, if your local physicians are offing any unique service or performing any interesting procedures you could create explainer content on the topic.
For example, a local surgeon is performing a new procedure for partial thickness rotator cuff tears. So I created a video named: Regeneten Post Surgical Physical Therapy Protocol Explained by a Physical Therapist Part 1
In this video, I specifically mention the surgeon by name and sent him a link showing him what I was doing.
You might create videos discussing post-surgical protocols or what to expect after surgery and specifically mention a targetted surgeon. That surgeon might start sharing your video with future patients.
5. Offer Services Your Physicians Can't Get Anywhere Else
Finally, your most unique value proposition is that you can offer services local brick-and-mortar clinics can not… or will not.
I believe it is an uphill battle to try and educate the physician on the difference between Medicare Part A home health and outpatient therapy delivered in the home.
Instead, a better strategy is to highlight the services you offer that other home health agencies or brink and mortar physical therapy clinics do not.
Example:
24-Hour Access – Maybe you offer a dedicated hotline that your patients can call any time of day or night.
Assistance with discharge and arrival – Maybe you can meet your patient at the surgical center upon discharge and help with the transition from the car and into the home for your first therapy session.
Non-emergency fall recovery – Maybe you can offer non-emergency fall recovery services for patients who refuse to call 911 or the fire department.
There are many more service offerings a mobile physical therapy could market in their physician marketing strategies plan that other providers would refuse to offer.
Bonus:
If you want to learn more about creating referral pads – click here.
6. White Label Home Exercise Program and Instruction
It should be no surprise that local surgeons are always strapped for time. If you can find a way to save your local surgeon time while helping to educate and inform that surgeon's patient you may just find the golden ticket to more local referrals.
Create an Info Product
My favorite hosting platform for informational products and digital courses is Thinkific.com. They offer a FREE entry-level sign-up that allows you to create a full course and actually sell that course for no cost to you other than the payment processing fee through Paypal or their in-house stripe integration.
If I were trying to build a referral relationship with a local shoulder surgeon, I would create a series of short videos on common topics related to rotator cuff repair. I would record a video showing the proper use of the post-surgical shoulder sling. I would record a video showing proper icing (cryotherapy) application. A third video might be a review of that specific shoulder surgeon's post-surgical protocol. 
Of course, I would include some content about what to expect from physical therapy and specifically what we do at our physical therapy clinic. 
Next, I would give that Thinkific informational product away for free to that surgeon's patients using a dedicated coupon code. The course itself would carry a $49 price tag for everyone else.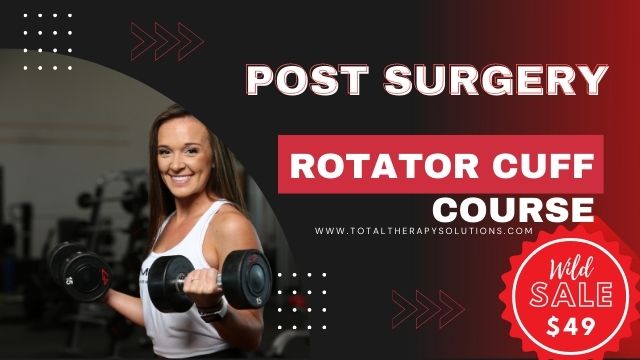 7. Attend Patient Follow Up Appointments
If you are still reading then your reward is the 3 most effective physician marketing strategies I have ever used in my practice.
This one is called attending physician follow-up visits in person.
When any of my post-surgical patients have a 2 or 4-week follow-up visit scheduled with the surgeon, I will block my schedule and attend that visit with my patient. I am there to support my patient but also to build a relationship with the surgeon.
Recently, I had a patient who was recovering more slowly than expected from a rotator cuff repair surgery. His flexion was less than 90 degrees actively, but passively or AAROM he could reach better than 160 degrees.
This patient was concerned the surgeon would think he wasn't doing everything he could in therapy, so when I told this patient I would attend his follow-up visit with him he was ecstatic. 
After this physician follow-up visit I quickly received three more referrals from the same surgeon. I attribute this increase in referrals to being front-of-mind for the rest of that day.