CPT Code 97140 Documentation Guidelines
Medicare Part B –
According to Medicare LCD L34049
"Documentation must clearly support the need for continued manual therapy treatment beyond 12-18 visits.
When the patient and/or caregiver has been instructed in the performance of specific techniques, the performance of these same techniques should not be continued in the clinic setting and counted as minutes of skilled therapy.
[CPT Code 97124] Massage therapy is not covered on the same visit as this code.
Supportive Documentation Recommendations for Manual therapy
Area(s) being treated
Soft tissue or joint mobilization technique used Objective and subjective measurements of areas treated (may include ROM, capsular end-feel, pain descriptions and ratings,) and effect on function
For MLD/CDP, supportive documentation should include:
medical history related to onset, exacerbation and etiology of the lymphedema comorbidities prior treatment cognitive and physical ability of patient and/or caregiver to follow self- management techniques; pain/discomfort descriptions and ratings; limitation of function related to self-care, mobility, ADLs and/or safety; prior level of function; limb measurements of affected and unaffected limbs at start of care and periodically throughout treatment; description of skin condition, wounds, infected sites, scars." Link
Blue Cross Blue Shield –
A recent announcement from BCBS Minnesota stated the following
"Blue Cross to Reimburse CPT Code 97140

Effective January 1, 2019, Blue Cross and Blue Shield of Minnesota and Blue Plus (Blue Cross) will reimburse chiropractors, occupational therapists and physical therapists for CPT code 97140 – Manual Therapy techniques, one or more regions, each 15 minutes." Link
Health Network Solutions –
NHS has shared specific guidance on billing CPT Code 97140. This article includes guidance on billing CPT Code 97140 and chiropractic manipulative therapy (CMT) on the same day to the same or different regions of the body. Click here to see the full article.
NHS specifically states that "During the initial phase of care, no more than two therapies or modalities per visit are considered usual and customary."
Blue Cross Blue Shield of Louisiana –
Click here to view a Billing and Reimbursement Guidelines
"When manual therapy (97140) or massage therapy (97124) is performed on an area of the body that is unrelated to the manipulation, services may be eligible for separate reimbursement. In order for separate reimbursement to be considered, the code must be filed with Modifier 59 and the following conditions must be met:
Treatment must be skilled in nature and part of a specific, diagnosis-related goal.
Devices such as hand-held vibrators are not considered skilled services and are not billable services.
Manipulation should not have been performed on the same area of the body on the same day.
The following must be documented:
Specific description of the area treated and the utilized technique for treatment
(i.e., manual traction, myofascial release, etc.).
Time treatment began and ended along with the total number of minutes of treatment.
Clinical rationale for the separate service. (i.e., contraindication to CMT).
Audits will be conducted on a periodic basis to ensure claims are submitted appropriately. Proper coding prevents inappropriate payments that eventually result in recoupment.
If a licensed massage therapist performs massage therapy incident to another provider, the service should be billed with Modifier HT.
Medicare Types of Manual Therapy – LCD L34049
Manual Traction
Joint Mobilization
Myofascial release/Soft tissue mobilization
Manipulation
Manual Lymphatic Drainage (MLD)/Complex Deconjestive Therapy (CDT)
Billing Guidelines for CPT Code 97140
According to current NCCI Edits, Medicare Part B will not reimburse 97140 when billed on the same date of service for the same region as 97124. 
Common Coding Errors for CPT 97140
The two most common coding errors include:
Billing CPT Code 97140 when performing dry needling. Dry needling codes are 20560 and/or 20561. CMS Link
CPT Code 97140 should not be billed for passive range of motion exercises. For example, if a patient had a rotator cuff repair surgery and requires passive range of motion, CPT Code 97110 should be billed.
Physical Therapy SOAP Note Examples:
Each payer might have different documentation guidelines, but according to CMS Chpater 15 – Medicare Benefit Policy Manual a treatment note must include the following:
Date of service
Specific interventions provided
Total Treatment Time in Minutes
Total Treatment Code Minutes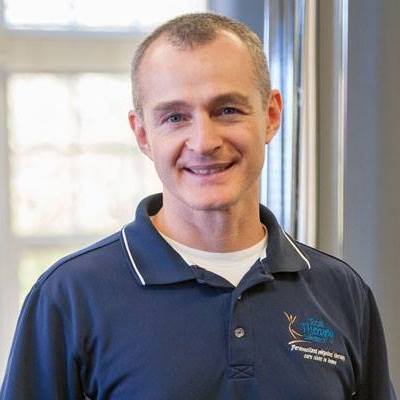 Anthony Maritato, PT
Private Practice Owner / Physical Therapist
After starting a private practice physical therapy clinic in 2022 with his wife Kathy Maritato, PT, Tony and Kathy grew their practice to five locations across two states.
Now, Tony and Kathy enjoy spending time treating patients in the morning, coaching therapists in the evening, and being home to play with their dog Tucker and 4 boys.
CPT Code 97140 – Manual Therapy:
Documentation guidelines,
Billing recommendations,
Physical therapy SOAP examples,
Evaluation templates and snippets.