This article should help you know what features to look for when buying an elliptical trainer for home use. How to Choose the Best Elliptical Machine for Home Physical Therapy.
The photos and links are to elliptical trainers I have purchased and used myself within my physical therapy clinics.
How to Choose the BEST Elliptical Machine for Home Physical Therapy 2022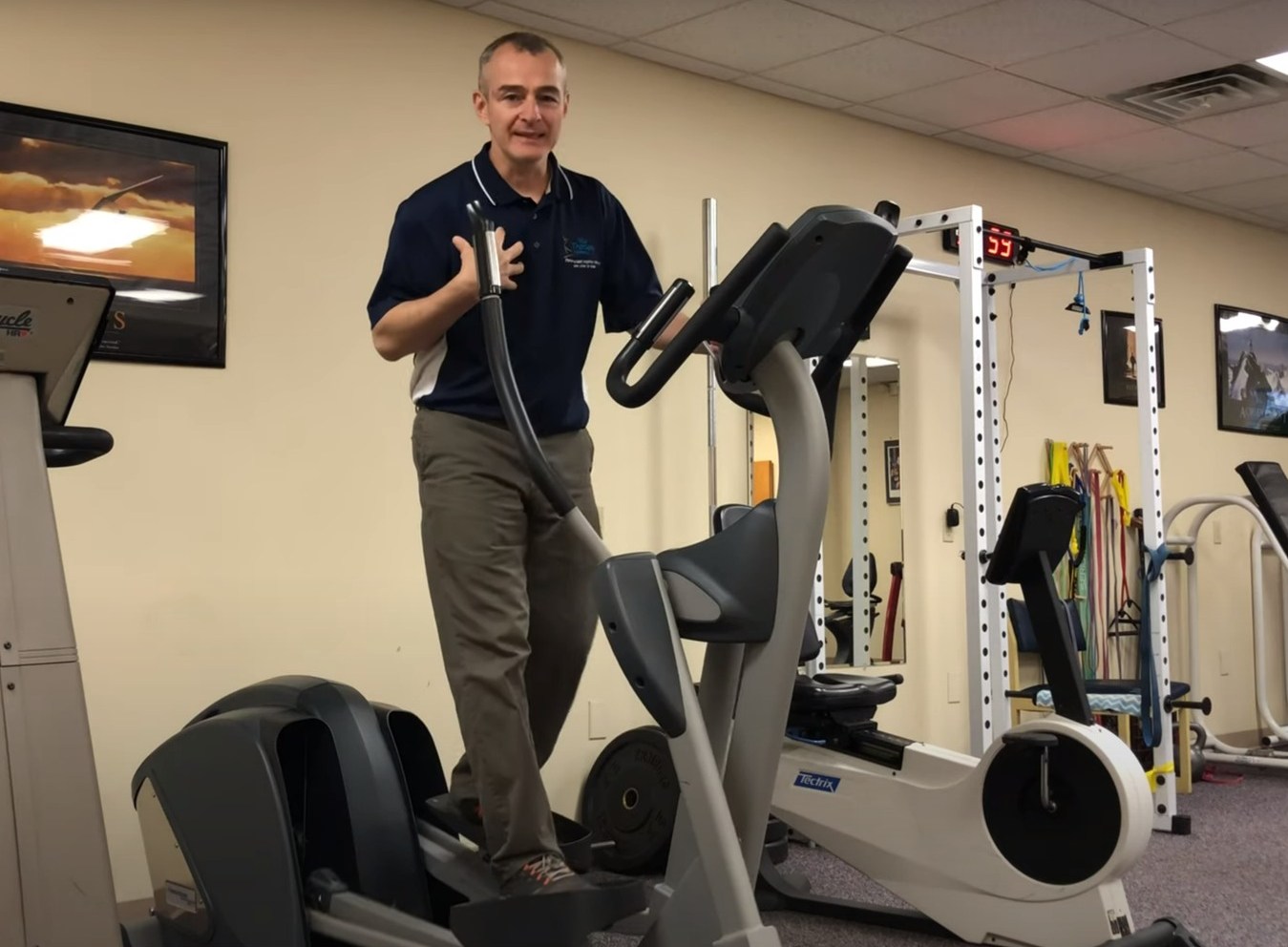 Choosing the best elliptical machine for home physical therapy after you have been discharged from outpatient physical therapy can be challenging.
There are so many different brands, makes, and models on the market. Each machine has different features and functionality.
In this article, I will discuss some of the features you may want to look for if you have had a total knee replacement, ACL reconstruction, or you have been diagnosed with osteoarthritis.
Why Choose an Elliptical Trainer for Home Use?
Elliptical trainers provide low-impact workouts and may be ideal for someone with hip, knee, or ankle arthritis. I have been a physical therapy practice owner since 2002 and a personal trainer before that. The elliptical trainer provides many advantages over other cardio equipment.
Advantages of an Elliptical Machine for Home Use
Low impact on arthritic joints
Weight-bearing exercise to improve bone mineral density
Symmetrical stride length
Quiet
May be used without electricity
Durable
Disadvantages of an Elliptical Machine for Home Use
Expensive
Bluky
Heavy
May be too challenging
Requires coordination and lower extremity motor control
Choosing the best elliptical machine for home physical therapy: My Criteria
Size
Foot Plate Position
Reciprocal Arm and Leg Motion
Stability
Resale Value
Size: Best elliptical machine for home physical therapy
There are different elliptical machine build styles from rear drive to front drive and from long frame to short frame.
Before buying an elliptical machine you will need to know where you plan to place the machine. Some machines require more floor space while others require taller ceilings.
What's nice about an elliptical vs a treadmill, is there is little chance of falling off the back of an elliptical, so it can be placed against a back wall. Also, elliptical users can get on/off an elliptical from the same side every time so the device can be tucked away in a corner against a side and back wall.
SOLE Fitness E95 Indoor Elliptical vs SCHWINN Fitness 411 Compact Elliptical Machine
Both of these elliptical machines work remarkably well and would be considered high-end consumer quality.
The Sole Fitness E95 is 82-inches in length and 71-inches in height. This requires more floor space than the compact Schwinn Fitness 411 which only takes 54-inches in length and 62.5 inches in height.
Disadvantages:
This sole requires nearly 7 feet of floor space and 6 feet of height. Depending on the user's height, it would not be unusable if a person had a low basement ceiling for example.
Advantages:
The nice part about having a longer frame is this elliptical machine offers a longer stride length and smooth hip, knee, and ankle action.
Disadvantages:
This Schwinn brand elliptical is small and compact. But if the user is too tall or has long legs, your knees might bang the front console.
Advantages:
The smaller elliptical machine frame makes this a great option for apartments. This is also a great option for shorter people less than 5 feet 10 inches in height. It is also a great option for people who are lighter weight and weigh under 200 lbs.
Foot Plate Positioning
If you are looking for an elliptical machine to use for home physical therapy, the foot plate positioning may have a significant and important impact on your hip, knee, and ankle.
For example, some elliptical trainers have an angled foot plate as shown in the image below.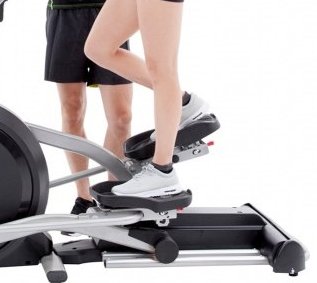 You can see how that foot plate is angled downward causing the heel to lift up and the knee to be far over the toes.
While knees over toes isn't a bad thing, if you had knee surgery you may not have adequate range of motion to support that motion.
Personally, I prefer a flatter foot plate throughout the elliptical motion for anyone who has had knee surgery or is experiencing pain attributed to osteoarthritis.
This Sunny Health & Fitness elliptical has a flatter footplate because of the small crank arm. Users won't get as much of a vertical motion, but it may require less knee flexion and extension range of motion.
Reciprocal Arm and Leg Motion.
Some elliptical machines have reciprocal arm and leg motion while others just have leg motion.
Personally, I do not see a significant difference in price or space requirements between the two kinds of machines.
I always recommend having the option to utilize the arm action. Our bodies are designed to work as a system. Arms move with legs during normal human walking. I would want to leverage this while performing physical therapy at home.
Stability
Since this article is about buying the best elliptical machine for home physical therapy, I would need to talk about safety.
Following a total knee replacement surgery, acl reconstruction, or another post-surgical recovery, having an elliptical machine that is safe and stable is important.
The three things I look for when assessing safety include:
Width of the base of support. The wider the better.
Build quality. Plastic or flimsy handles can easily bend to break off.
Clutter. Some machines require users to step over or around components. I recommend a machine that is free of clutter and easy to get on and off.
Resale Value
Thousands of elliptical trainers are sold every year in the US. Many of these happen to go unused. The ability to sell your lightly used elliptical trainer after it has been sitting in your basement for several months is important.
The key factor in your ability to resell any exercise equipment is the quality of the brand's reputation.
Names like Schwinn, NordicTrack, and True are just a few of the most well-respected name brands in the business.
While it may be true that you can save a couple of hundred dollars buying an elliptical machine without brand name recognition when it comes to trying to sell that device it may be increasingly hard to recover any of your money.
Related Articles for Physical Therapists: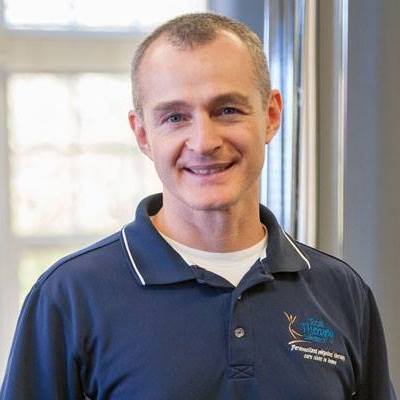 Anthony Maritato, PT
Physical Therapist
I have been a licensed physical therapist since 2006 and a physical therapy private practice owner since 2001. Over that time I have purchased equipment for more than 12 physical therapy clinic locations.
I have purchased a lot of exercise equipment that turned out to be a complete waste of money. My goal in sharing this information is to help consumers, therapists, and patients make better-informed decisions on what equipment is worth buying.
Is an Elliptical Good for Bad Knees?
Yes, an elliptical machine may be a great choice for someone with bad knees. Research suggests an elliptical trainer is an excellent option for adults with knee osteoarthritis due to its functional weight-bearing status while simulating a stepping motion. The fact that the user's foot never breaks contact with the pedal results in less impact force on the knee joint.
The way I explain it, an elliptical allows for joint compression which stimulates cartilage health while minimizing impact.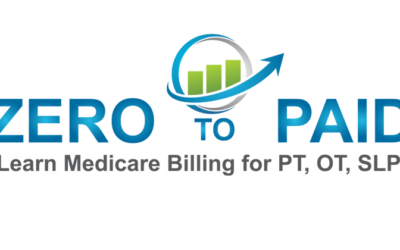 Everything you need to know about Medicare part B billing for physical therapists, occupational therapists, and speech language pathologists.
If you have been thinking about starting a brick and mortar private practice, mobile practice, or side hustle, this course will provide you with the tools and confidence to get started.
Lifetime access $499
read more