3 EASY Ways To Make More Money As A Physical Therapist in 2022
1.) Selling Info-Products and Digital Courses
Informational Graphics
Creating and selling info-graphics and downloadable pdfs is a great way to earn extra income as a physical therapist.
The easiest way to to get started is to use software like Canva to search templates. Then drag and drop your prescribed exercise photos into the tool and export it to a PDF which you can then sell on your website.
If you don't have e-commerce set up yet, then you may choose to simply create a free Stripe or PayPal account and use one of their payment gateways to get started.
Digital Courses
All therapists are creating home exercise programs on a regular basis.
Selling home exercise programs as digital courses is another great to increase profitability as a practice owner or employee.
Insurance companies are paying therapists to teach patients what to do at home, but many patients would like additional resources to help improve compliance and understanding of the prescribed home program.
One of my favorite sites to use when creating and selling home exercise programs is Thinkific.com.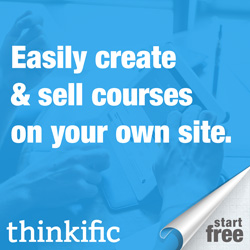 2.) Product Reviews, Buyer's Guides, and Affiliate Marketing
Product Reviews
As a physical therapist, you are using products every day. From elastic resistance bands to braces and slings. Consumers are constantly searching for information designed to help make better buying decisions.
An easy way to create AMAZING product reviews is to simply start with the equipment you already use. In your review bring a unique, therapist's perspective to the product. If possibly discuss specific use cases and patient conditions without violating patient privacy and you will have a winning offer.
Then to monetize this review, you can add Amazon affiliate links to the video or blog post. There are other affiliate programs as well. Here is a list of my top 5 favorites:
2. ClickBank
3. Share-A-Sale
4. CJ.com
Buyer's Guide
Creating a list of recommended products specifically to assist the rehabilitation and recovery of certain injuries or surgery is a great resource for consumers.
If you plan to monetize a buyer's guide with Amazon affiliate links then your guide must be publicly accessible. You can do embed Amazon links within a PDF document or behind a pay-wall.
Affiliate Marketing
The above examples include affiliate links, but affiliate marketing extends well beyond just embedding affiliate links. For example, there are thousands of digital products on ClickBank.
If you create a free account for ClickBank and search their market place you can find digital or physical products that offer 50% or more commissions to anyone who uses a "hoplink" to list and sell one of these products.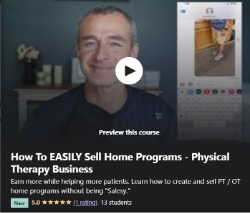 3.) Content Curation
For therapists who don't have the time to create a website or digital products then content curation might hold the solution.
Imagine your mom calls you because she was recently diagnosed with adhesive capsulitis and she wants to know what she can do to cure it.
You would most likely create a list of articles and videos for her based on your best professional judgement, the most recent clinical guidelines, and the best evidenced-based interventions you can find.
Now imagine it isn't your mother and instead of giving this information away you sell it for a premium level fee.
Perhaps you invest 3 hours of research and curation into this project and you want to be paid $150/hr. If you sell access to this information for $49 then you only need to sell it 3 times to earn your desired pay rate. Every time you sell if after that is pure profit.
'Curate, Don't Create' is a common saying these days. There is big monetary value in finding ways to get the right information into the hands of people who need it.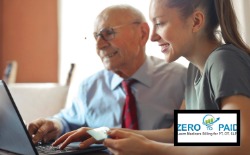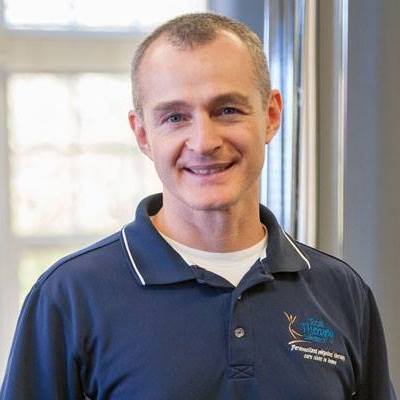 Anthony Maritato, PT
Physical Therapist / Private Practice Owner
As a serial entrepreneur since the age of 7, Anthony (Tony) Maritato didn't start his first physical therapy clinic until he was 26.
After recently graduating from Pennsylvania State University with a bachelor's degree in Kinesiology, Tony fell in love with the profession of physical therapy. Not wanting to wait until getting his degree in Physical Therapy, Tony quickly opened a personal training studio which transitioned to a full-time physical therapy clinic once he recruited his now-wife, Kathy Long Maritato, PT.
Since then Kathy and Tony have grown Total Therapy Solutions LLC into a successful private practice with two locations in Ohio.
Tony spends his free time teaching other therapists how to contract with and bill Medicare for outpatient therapy services.